Thinking about a fetish theme night at your club ? Staging a fetish based show ?
Making a film/documentary with a fetish slant ?
Got an idea for a photoshoot for one of the magazines or just simply want to hold a private gathering for your friends ... but have no equipment etc ?
Roissy Workshops can help you make it happen.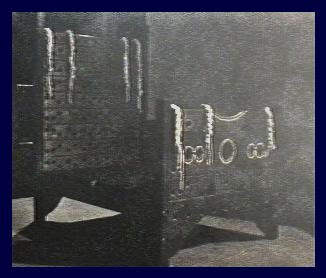 Based near Manchester Roissy Workshops operates a complete mobile 'dungeon/playspace' props hire service for UK clubs, theatre, film sets, photoshoots and private parties. It comes with its own crew who load in, assemble, monitor and dismantle/load out at the end of the event.
We offer a variety of services ranging from the basic equipment and crew (for the client who has everything else) up to a complete 'turnkey' operation where the client provides the venue and we take care of the rest – equipment, staff, sounds, ambient lighting, aromatics, professional 'operatives', advertising, enquiries and even advance ticket sales should our client not have that facility.
In addition to our travelling 'dungeon', Roissy Workshops can also provide entertainment ranging from displays and demonstrations to full stage shows. These vary from the practical to the fantastic, from simple scenes and instruction to complex and diabolical spectaculars, all of course tailored to the event, venue and audience.
The Roissy staff have a varied experience of different types of 'play' and have staged many demonstrations of technique covering such subjects as bondage (western and oriental), electroplay (we have an extensive range of electrostimulation devices), suspension (including inverted), waxing, fireplay as well as the use of the more 'traditional implements'.
During an event we will also provide instruction in the use of equipment should it be required It has become a standing joke within the team that our role falls somewhere within a triangle at the points of which stand Isambard Kingdom Brunel, The Marquis DeSade and Hi De Hi. We have also been described as the largest travelling BDSM fairground in Europe ...but we cannot comment on the validity of that statement having not seen all Europe has to offer - yet!
At all events staff are available not only to demonstrate the uses of the equipment but also to oversee its correct use and provide advice and assistance should it be required. Safety is always the first and highest priority.
Equipment List
Victorian Flogging Ladder
Posture Trainer
Tomb of Lygia
Cheval St Andrews Cross
Pillory
Strapdown Chair
Roissy Posts Multi-bench
Singapore Sling
Stocks
Horses
Rack
Bondage Bed
Suspension Frame
Spiders Web
Whipping Bench
In total we have in excess of 3.5 tons of equipment and new pieces are continually being developed and added to our already extensive range.
We at Roissy Workshops have always believed in quality. We have no catalogue, each piece that we produce is individually made to our clients requirements. We offer a complete design and fabrication service for everything from a single item to fully fitted commercial premises.
For details of our services please email us at
roissyworkshops@yahoo.co.uk
Please check out
The Edge
for an example of our fully fitted commercial work