ANAL PLAY



Anal play is not necessarily dirty, messy, smelly or inherently homosexual, unless you want it to be! Like any other form of sexual or BDSM play, anal can be erotic, painful, stimulating, humiliating, or joyous depending on your desires and intentions.

For many subs, females too but perhaps especially males, being penetrated anally is the ultimate form of domination and accepting it the ultimate demonstration of their submission. Most people are brought up to see the anus as dirty and anything to do with it as unmentionable. It possibly holds a special fascination for that reason. For men to accept penetration they must overcome all their fears and misconceptions of what that means to them. No, anal play is not unique to BDSM but it has some deep rooted associations that make it a special and often most rewarding part of Scene activities, for both people involved. Arse play has its pleasures, forms and dangers too. Enough so that it definitely deserves this section of its own.
---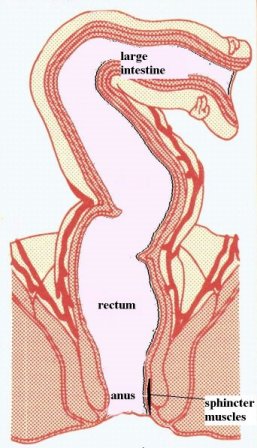 Hygiene is essential in anal play. The bowel contains many forms of bacteria that are both essential to the body and dangerous out of their proper place. The lining of the bowel is absorbant, in fact one of the main functions of the large intestine is to reabsorb water from waste that passes through it. But the soft tissue essential for that absorbancy also lays it open to infection from bacteria that dont belong there. To make cleanliness easier to maintain anything that is inserted through the rectum should be covered by a disposable layer. Latex gloves are usually recommended if you are going to insert your fingers, or hand. A condom, or even several one over the other, is best for a toy such as a butt plug, vibrator, dildo, or cock. Keep plenty of tissues to hand and either disposable antiseptic wipes or soap and water. If you like getting messy during anal play then fine, but do remember the potential dangers.

If you are using any rubber based cover over something that is going to be inserted into the rectum, use a water soluable lubricant. Some alcohol based ones degrade rubber alarmingly quickly. If you are using soap it is best to use an unscented natural soap that will not irritate the anus or bowel, unless that is your intention, of course. Before inserting anything that is latex based, please check that your sub isn't allergic to latex. The latest estimation is that between 25 and 33% of the population may be. If your sub knows that they are allergic use an alternative or, if essential, use nothing and be especially careful about thorough washing.


As a special form of hygiene, and because it can have other most *interesting* effects, you might want to consider using a douche or enema. Many Dom/mes love giving their subs enemas. Some subs delight in them, others find them intensely humiliating, some love that aspect too! Other subs hate them but accept them as an essential part of the preparation for anal play. Of course, enemas always have a particular place in 'medical' Scenes. When the procedure is being administered by nurse or matron who will accept no protest or excuse, because 'you know it's good for you!', what choice is there? Equipment for enemas is easily available from either chemists or Scene traders. Cleansers for adding to the water are also available, or you can use a mild liquid soap, or simply plain water. A pint of water is usually sufficient but if you want to add to the sub's difficulty in retaining the wash you could use up to about 3 pints!



| | |
| --- | --- |
| | The old adage to deliver an enema 'High, hot and a hell of a lot' probably isn't the best way to start! Nor is suspending your sub upside down where it will take a while to release them, nor applying it somewhere a long way from toilet facilities. A pint of luke warm water delivered under gentle pressure, while they lie on their side, will probably be quite enough, especially for an sub not used to the procedure. Be warned, when the sub really can hold it no longer, the facilities better be available to them NOW! |



A considerately administered enema can make anal play much more acceptable for subs or Dom/mes who otherwise find anal play distasteful. For some it is a delightful form of play in its own right. It can stimulate extreme feelings of relaxation and submissiveness in the recipient that a Dom/me might find very attractive. But enema's should not be delivered without careful arrangements and preparatory study. There are plenty of texts available. Read one before getting into this Scene. An improperly administered enema can KILL! The practice of adding alcohol to an enema is particularly dangerous. Alcohol absorbs very rapidly through the bowel causing sudden and intense intoxication. Just a little too much absorbed into the blood stream too quickly can cause cardiac arrest and DEATH. This has been the result in several recorded cases in the US, where anally administered alcohol was a party piece at some student faculty initiation ceremonies


After the rectum has been thoroughly cleansed the sub will probably be relaxed and already somewhat lubricated. This will make penetrating them much easier. If you haven't applied an enema then you will need to lubricate thoroughly prior to inserting anything. Regular re-lubrication is advisable to prolong the session and prevent soreness afterwards. The possibilities for what you insert into your sub are wild! Of course you need to be safe and not use anything that might break or get lost inside, and anything over about 2.5 inches in diameter is probably stretching things too far, at least at first! Apart from that you can use your imagination.





| | |
| --- | --- |
| Whether you start with your fingers and move on to insert the rest of your hand or a vibrator, dildo, ben-wa balls, butt plug or banana you should make sure that what is inserted goes in smoothly and is free from rough or sharp edges or points. There are few sights more guaranteed to raise the pulse rate of a male sub than that of his Domme approaching him with a dildo strapped to her loins. Anticipation or trepidation, desire or desperation one way or another their heart will beat faster! Just don't spoil the effect by ramming it in as the bad novels say you should. Go slowly, controlled and making them feel every inch until they are backing onto you willingly, only to hear you laugh as you withdraw to start again at YOUR pace! | |




Of course, there are other forms of sensation play that centre around the anus too. Rimming, licking around and on the anus is very sensual for most recipients and a very submissive act. A dab of muscle cream, a rub of a chilli, or for a really intense experience a freshly peeled chilli inserted into the anus, will have the sub squirming and begging for relief. Ice inserted into the rectum can be equally intense, but see the warning below. Electrical toys can be used around or, in some cases, inserted into the anus and again give very intense sensations. Any of these in a femsub while her vagina is also being stimulated multiplies the effects.

Too much ice inserted for too long can have bad effects. Firstly you may chill the sub causing cramps and diarrohea. Secondly you could cause frost burn to the anus or wall of the rectum. Thirdly you could send the nervous system into shock causing a heart attack! Small amounts of ice that melt before there is time for these things to occur are fine. Just stay away from the 3 inch thick, 9 inch long, ice dildos! Dom/mes sometimes like to alternately stimulate the vagina and the anus. This is risky using a single toy as undesirable bacteria could be passed from the rear to the front passage. Cover whatever toy you are going to use with several condoms, one over the other. When the toy is removed from the anus, strip off the top condom and carry on with the now clean toy. Use as many condoms as times you think you will want to switch passages.


The mental aspects of anal play should not be overlooked. Both fem and male subs may be averse to this type of play and overcoming that aversion patiently but persistently is quite often a feature of a developing Dom/sub relationship. Eventually you may even progress to the use of a dilator to stretch the anal muscles or to working until they are accepting the whole hand inside. But the consequences of tearing the bowel with the subsequent risk of peritonitis, or of eventually causing a prolapse of the anus or severe piles should not be forgotten. If the sub is taken sensibly, they will often learn to appreciate and enjoy the sensation of your penetrating them anally. Once they learn to relax and co-operate there will be little or no pain. Then the sensations of the rubbing against their prostate gland, and the memory of their anus tightening around your cock or dildo as they orgasm will cause arousal, even if almost against their own will.

There are contra-indications to anal play. If the sub has any form of bowel disease or severe piles or heart problems then anal play is much more risky. That apart it can be a very mentally and physically rewarding experience for both Dom/me and sub.




Have fun and play safe!