BREASTS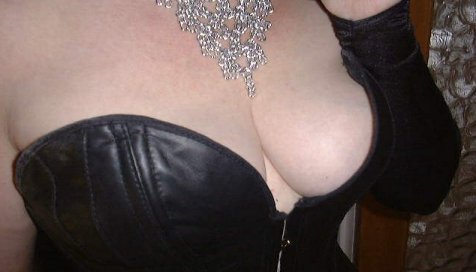 Anyone who plays with a femsub will eventually get around to playing with her breasts. 'Eventually' usually being within about 5 seconds of when play starts! Breasts just attract play. They are often prominent, convenient, sensitive and a shape that begs for bondage, flagellation, piercing, clamping, handling, kissing, sucking and almost any other aspect of BDSM you can think of. If you are going to play with a woman you are going to play with her breasts and if you are a femsub you are going to have your breasts played with, so let's have a look at breasts ... Down boy!
---
Breast bondage is very popular among Dom/mes who play with femsubs. It isn't all that unpopular with the femsubs either! Being tied makes the breasts even more prominent and sensitive but it isn't easy. Although breasts vary greatly in size and shape generally rope will slide off unless it is wound very tightly and/or kept close to the chest wall. Fastened tightly there the breasts can be lifted, stretched tied together or pulled apart. However, rather than being made prominent breasts are sometimes tied down to the chest. In this case the ropes are often pulled tightly over the nipples to increase the effect. For enhancement bondage a fairly thin rope works better, for restriction choose a thicker gauge. After a while the breasts will swell and their colour will darken. Once breasts are securely fastened in enhancement bondage other attention almost inevitably follows.

Breasts can take quite tight bondage without damage but the normal rules apply. Have a pair of paramedic shears or other safe cutting instrument ready in case you can't release your knots and don't leave the bondage on for more than about half an hour. Yes, we know lots of people who leave their subs in tight bondage for hours but it isn't good practice and, like driving your car too close to walls most times you get away with it, eventually you will lose a bumper!


Flogging, caning, whipping and slapping breasts are all safe and effective, in moderation. Even when done lightly you can make some pretty patterns on the flesh. Any of the instruments can be used but canes, floggers and light paddles seem to be favourites. With a flogger or whip you can make good use of wrap by standing behind a sub who's arms are tied above their head and curling the tails around their ribs so that the tips catch the breast and nipple. Using wrap like this is fine, it is only when the wrap is unintended that you should get in some target practise. Whipping from behind like this is even more erotic if there is a full length mirror in front of the sub so that the sub can see their Dom/me and what is about to happen and the Dom/me can watch the strike, the sub's reaction and the development of the marks.

Heavy caning or whipping can leave knots of scar tissue which, possibly, may increase the chances of breast cancer. It isn't proven but the chances are high enough that we don't recommend it. Check with your sub, of course before using any instrument hard enough that it will leave marks in an area more likely to be visible than some. The breasts are close enough to the face that an inaccurately aimed whip or flogger tail can go astray, please be careful. Also note that the breasts of women with implants should never be subjected to any form of CP.


Piercing is another breast play favourite. Play piercing in which needles are inserted just below and through the skin and then sometimes decorated with coloured cotton, is an art form. Deep piercing, in which needles are pushed right into the breast or through the nipple can be extremely painful and bloody in fact quite heavy S&M. Permanent piercings are usually through the nipple.

Piercing can be very painful but the main danger comes from the risk of infection. You are unlikely to do any serious damage unless you are stupid enough to push a long needle directly towards the chest and a piercing that is not kept open by a bar will heal fairly quickly. But with any piercing strict hygiene precautions and infection control is a MUST. Passing the needle through a flame will not do, you need to use sterile instruments and proper needles. Hypodermic or acupuncture needles are preferable. They are available in various sizes in sterile containers from specialist suppliers


One step down from piercing but almost as intense is clamping. Having a clamp applied to a breast can be almost as painful as having one attached to your car wheel! Because of their large surface, however, breasts are often decorated with whole packets of brightly coloured clothes pegs. Concentric circles starting on the areolae, spirals, radiating lines, lines marching across the breast and nipples like a regiment of biting soldier ants, the breasts are a veritable canvas on which the Dom/me can express their artistic talent. Then they can express their unerring accuracy by knocking them off one by one with a crop :) Because breasts are quite tough they are also a great site for playing with 'zippers'. Zippers are a series of pegs connected by a cord. By pulling up on one or both ends of the cord you 'unzip' the line of pegs, snapping them off in slow or rapid succession according to your preference. Slowly from each end finishing with snatching off one either side of and one on the nipple works well.

Much the same precautions apply to clamps as apply to bondage because both cut off the blood supply. Just don't leave them on too long. Besides, you will probably enjoy the fun and reaction of them coming off.


Wax play gives yet another chance for Dom/mes to indulge in living art. White or coloured wax dripped slowly but inexorably down the breast towards the nipple or initially spaced but with increasing frquency until it is like burning rain from several candles can be intense and intensely erotic. You can paint patterns or build sculptures on the sub's nipple and all where with just a glance down they can delight in your creative talent! Incidentally, flogging does a wonderful job of removing wax from skin and gives the sub lots to clear up afterwards :)

Candles, especially coloured candles, melt at differing temperatures. Test the ones you will use on your sub by dripping the wax onto your forearm and adjust the height of the drop until you reach the right temperature. Remember that a rapid build up of wax on the same point seals in the heat and may cause a more serious burn than you intended.






Have fun and play safe!