FEET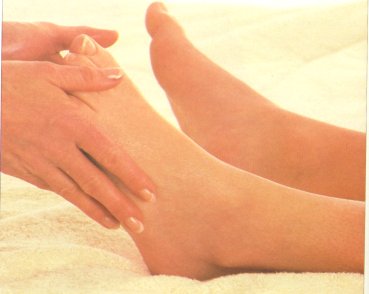 Who hasn't indulged in the luxury of kicking off shoes and stockings after a hard day and enjoyed the feeling of cool fresh air on tired feet? Who has had the relaxing sensuous contentment of having their feet washed, powdered, massaged and pedicured? Who would like that? Applications please to ...... your sub or Dom/me :) Feet are sensitive and can be sensuous. Time to pay more attention to feet!
---
Feet can also be the site of the most horrendous torture. Brace yourselves, we are talking here about (arrrrrrrgghh!) TICKLING! Fingers, feathers, finger nails, scratchy thing or fluffy things flicking around the sole and tormenting the soul! ENOUGH! Even talking about it is more than I can bear. You get the message. This is one thing you can do to your sub. Sadist!


Even if a Dom/me tortures a sub's feet there is no reason why the sub shouldn't worship the Dom/me's. Kissing, licking, massaging and sucking may all be to the Dom/me's liking, whether their feet are naked or encased in long, shiney, wonderful leather. Oops, day dreaming again! The point is that both sub's and Dom/me's feet are open to sensuous attention. It is just that the form that attention takes may vary.



The foot is a mass of bone, muscle, ligaments, tendons, nerves and blood vessels. Generally, the top of the foot is of little interest in BDSM play and, other than for massage, is best left alone. Nerves in the base of the foot are particularly sensitive. While light flogging may do no harm, heavy caning or other beating on the soles of the feet can cause permanent damage to bones and nerves, resulting in chronic pain and disability.





In reflexology differing areas of the feet correspond to associated areas of the body. The areas shown in this picture may be particularly of interest to readers of this section. On the outside of the foot, a spot directly opposite the one which affects the prostate equates to the testes or ovary. Stimulating these areas by massage, pressure or electrical play can stimulate their partners elsewhere. A skilled and patient sub or Dom/me who is in tune with their partner can stimulate them to orgasm by foot massage alone and using these areas helps that process.




Apart from tickling or gentle CP, feet are often subjected to ice, wax or electrical play. All of these are safe and particularly effective on the soles, as long as the usual precautions are taken.


Feet may be bound, of course. The favourite forms for this seems to be either, side by side with the big toes tied together and loops around the feet and ankles, or sole to sole with cord bound around toes, insteps and ankles. In either case it will probably be impossible for the sub to stand or walk. In sole to sole bondage the sub's knees are forced apart, fully exposing the genitals for further attention by the Dom/me.

Because the flesh on the feet is relatively thin and they contain many bones, some fragile, bondage must be applied with care. Thinner cordage is usually needed if the toes are to be tied. The combination of bony underlay, thin flesh and narrow guage cord makes it difficult to tie securely without cutting off circulation. You should take special care to check the toes regularly to ensure that they do not become too cold, numb or start to swell. Release or loosen the bondage within 30 minutes to restore circualtion. You can always re-tie it afterwards.


A subs natural position, kneeling before their god/dess, makes foot worship an almost inevitable part of a Dom/sub relationship. The position in which the sub is placed reinforces their, and the Dom/me's status. The sub's feet are sensitive and, in many positions, almost cry out for attention. All in all feet deserve the more elevated status that they are afforded in BDSM.




Have fun and play safe!