VULVA



We would prefer to keep this site open so don't expect explicit photographs in this section! However, at the request of those ladies who say they are sure that their male partner doesn't even know where their clit IS, we have included a diagram! Whether a male or femsub ever gets the privilege of seeing this area of their Domme, let alone pleasuring her through stimulating it, will be Her decision alone. Some Dommes keep a skilled (and very lucky!) sub primarily for this purpose. Others, particularly Pro-Dommes, may rarely if ever allow access to or sight of their vulva. Still others may allow sight of the area to tease the sub but not allow access or only permit touching with the fingers or mouth. What they allow is the choice of the Domme and it is the fate of the sub to gratefully accept whatever decision is made.

The type and degree of access to the vulva of a femsub is a matter for pre-Scene negotiation between her and her Dom/me. BDSM does not always involve sexual intercourse and it may not involve direct stimulation of any part of the vulva. It may or may not even involve the femsub being completely naked. Some wannabe Doms (and, much more rarely, Dommes) think, or even are wannabes because they believe, that BDSM is an easy way to find a woman who will do and accept whatever they want sexually. Such wannabes are usually very quickly educated into the realities of the Scene and are not often seen much thereafter. Of course, there are some serious but inexperienced Dom/mes who just do not know the culture and etiquet of BDSM and may think that access to any part of a sub's body is a part of the deal. That is definitely NOT the case and particularly so with this most intimate area. The sub may renegotiate access as the relationship develops and trust grows. However frustrating it may be, new Dom/mes should always remember that progressing before that re-negotiation not only destroys trust, their reputation and much chance of them getting to play with another sub, it could also be followed by a charge of indecent assault, rape or attempted rape! The vulva is undoubtedly the most erotic, sensual, sensitive and satisfying area of BDSM play, for both the femsub and the Dom/me but access is never automatic.

If permission for free and open access is granted then we are into a world of fun that makes New York seem like Albert Square! The vulva has several distinct parts, each of which lends itself to differing forms of play. Rather than discussing the forms of play generally, in this section lets look at each part of the vulva and the best ways of stimulating it.
---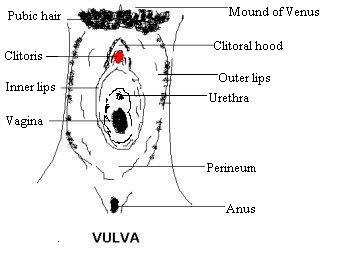 Before it is stimulated, the inner, more sensitive parts of the vulva are covered and protected by the Labia Majora or 'outer lips'. As a woman's arousal increases these open and draw back. The shape and thickness of these lips varies considerably between women and they change as a woman develops to and through puberty and beyond. Stroking, kissing, licking, or pinching the vulval lips will all arouse most women. Lightly applying a vibrator or electrical toys is both safe and VERY arousing for subs who respond well to that sort of play. Generally, stimulation of the vulva does not have to be painful to be effective. This is something to negotiate with your sub. Bondage ropes are sometimes arranged to hold the outer lips open and sometimes to keep them closed. In the latter case the ropes also usually run over the clit to provide extra stimulation. Which form of tie you use depends on what else you want to do.

The outer side of the outer lips, particularly, bear hair. I can already imagine femsubs grimacing at the thought, but many Dom/mes find that femsubs react quite emphaticaly to having these hairs tugged or plucked. The Dom/me can take it one step further of course and either shave or depilate the area. Some subs find being shaved by their Dom/me extremely exciting, humiliating, or stimulating. A combination of close inspection by their partner and the physical sensations of the water and razor can create a unique bond. We have a close friend, a Domme, who insists that the first thing she does with a new sub is to shave their genital area, with an open razor! She maintains that if, by the time she has finished, the sub hasn't lost any embarrassment and developed the beginnings of what will become a deep trust then they are never likely to. We believe her! Waxing or plucking the hair also tends to get the sub's undivided attention.

The outer lips are sensitive but not quite so much so in many women as their nipples. Many femsubs who cannot take clamps on their nipples will find them bearable in this area, at least for a while. How many she can accept and for how long will vary. Tapping or flicking the clamps gives a sharp reminder of their presence. A regular feature of genital play with femsubs who can accept clamps is to further their effect by hanging weights from them. Both the clamps and the hanging weights make it difficult for the sub to walk or crawl, adding humiliation to the stimulation. Depending on the position chosen, vaginal sex with clamps in place may be uncomfortable for the Dom/me, perhaps too painful for the sub. Clamps any where on the vulva doesn't usually prevent anal sex and, with care, stimulating the sub's vulva orally might be possible too.

It is quite common now to see femsubs with their outer labia pierced and ringed. Sometimes these rings are padlocked together as a chastity measure, other times they may be hung with weights, or used as connection points for a lead or tether. Temporary piercing, in heavier cases right through the outer lips, is also an aspect of play for some couples

Light flagellation of the vulval region is popular with Dom/mes. In common with the genital area of a man, whipping or paddling the vulva of a woman will do no harm as long as it is not too hard. In fact the vulva will take rather more punishment before damage occurs than testes will.

The Labia majora consist of skin and fatty tissue, connected to the abdomen by muscles that pull them open during arousal. There is a normal blood supply and nerve structure but no major blood vessels. If cut or pierced the outer lips may bleed copiously but not dangerously. The usual precautions of hygiene and common sense with clamps, electrical toys, razors and needles all apply.



Almost everything that has been said about the outer lips also applies to the inner lips (Labia minora) but more so! The inner lips don't bear hair, are smaller, thinner, more delicate and usually much more sensitive to touch than the outer lips. During arousal the blood supply to them increases causing them to swell and darken in colour. As long as you take their delicate nature and sensitivity into account you can play with the inner lips in much the same way as you would the outers.


See above for safety considerations.




The Labia minora join at the top to form a cover, the clitoral hood, over the clitoris. This hood protects the hyper sensitive clit in much the same way as the foreskin protects the head of a penis. The similarity doesn't end there. The clit is made up of the same sort of erectile tissue as the penis and contains the most touch sensitive of the nerve endings. The hood itself, as an extension of the inner lips, is sensitive but not nearly so much as the clit. Some women have their clit hood pierced and a ring, bar or stud inserted. The metal rubs against their clit, especially if stimulated with a finger, tongue or during intercourse, and causes intense arousal. In play the hood is sometimes clamped on its own or with the clit trapped beneath it. Some women with rather insensitive clits have the hood removed in an operation similar to a circumcision of the penis others find that direct stimulation of their clit without the protection of the hood is too intense to be pleasurable. Stimulation of the clit is often the main, and some people say the only, way to female orgasm.

The clit is a small target but one which is so satisfying to hit accurately and effectively that it is the center of a lot of effort when a Dom/me wants to reward a sub for her effort or achievements. Many women find that a clamp on the clit is just too much to bear while others have the clit itself pierced rather than the hood. A light stroke with a flogger, paddle or cane can have an immense effect. Stroking with a fur paddle or glove, a brush, a tongue or an electrical toy is equally dramatic. Wax and ice play is little short of phenomenal and if you try rubbing on a little dab of Tiger Balm, make sure you have a cooling solution ready and clear access to the shower, just in case she finds the session getting too hot!

Few people are ever tempted to damage a woman's clit and it's small size does much to protect it from accidental damage. The circumcision of the clitoral hood does not relate in any way to the truly horrendous and vile practice sometimes referred to as female circumcision. In this abuse the outer and inner lips and the clit are slashed away, often without anaesthetic or any proper sterile procedure other than heating a rough knife in a fire before before the 'operation'. This disgusting, disfiguring, disabling and non-consensual process inflicted on young girls is part of the culture in some third world countries but is totally abhorent to most people in the West.



Stuff it! No, I'm not swearing, just commenting on many vanilla men's idea of the only thing to do with a vagina. At least in BDSM men use their imagination and try to think of more than one thing to stuff it with! Most women find play around the vaginal opening to be very arousing and it is here that perhaps most purely Scene activity concentrates. All the usual toys come into play, vibrators, electrical toys, clamps, both furry and rough surfaces, in fact anything for sensation play. Ice, wax and muscle stimulants all get a look in too. Vibrators, plugs and dildos get more than just a look in of course.






But so do more unusual items. Ice is a favourite in the Scene, even to the use of moulded ice cocks. Internal BDSM play is possible with some other toys too. Long, thick, curved, ribbed, knobbly, squirting, vibrating, extending, inflatable, items which are hand held, fixed to seats or stands, strapped to partners, double ended, they just go on and on, which is why women sometimes prefer them to a cock of course. Some of the electrical equipment is supplied with purpose made and specially shaped probes to tickle and tingle inside the lucky femsub's body. The place to find inside is the famous 'G' spot. Sometimes it's existence is disputed but in fact most women have an area of particular sensitivity on the inside front wall of the vagina where the nerve ends that correspond to those in the clit are located. With some women you need longish fingers or a suitable toy to stimulate it but the reaction to a combination of stroking or vibrating that and the clit at the same time is usually well worth the effort.

Dom/mes sometimes like to alternately stimulate the vagina and the anus. This is risky using a single toy as undesirable bacteria could be passed from the rear to the front passage. Never fear! There is a way around it. Just cover whatever toy you are going to use with several condoms, one over the other. When the toy is removed from the anus, strip off the top condom and carry on with the now clean toy. Use as many condoms as times you think you will want to switch passages. Other than that the main safety considerations are safe sex and remember not to play too hard inside your sub. Ramming huge objects into them is rarely their idea of fun!


The entrance to the urethra is seldom used in BDSM play, in fact it is seldom even noticed. It can be put to the same sort of play as the male urethra, using a surgical sound or thin smooth rod. This may fit in particularly well with medical play scenarios. The perineum, that small area between the anus and the vagina is often sensitive but difficult to play with other than by using sensation. On some women you can pinch up enough skin to position a clamp, which can be quite intense. In women who have had children it may have been cut or torn. Otherwise, the ease and rewards of playing in other areas so close by usually make it not worth too much attention. The Mound of Venus (Mons Veneris also sometimes just called the Mons) is a layer of fatty tissue overlaying the pubic bone. It is close enough to the clitoris that a powerful vibrator or electrical stimulator can send waves of pleasure all the way down through the vulva. It is worth experimenting. Pubic hair can of course be shaved or plucked.


The anus is often important in both physical and mental aspects of BDSM play. Important enough in fact that it has its own section elsewhere in the reference area of the site.




Have fun and play safe!